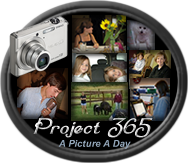 Project 365/030 - 365/036
Sunday 030
I was at work Sunday into Monday and the ER was not too busy so I was able to get some scrap booking done. I am getting so much more organized due to my Wednesday plans with Mimi.
This is my (first born) Adrienne's book...I am finally filling in the kids baby books.
I thought I was done with the baby books, turns out I have so many more memories in pictures to put in. Really happy for the Wednesday, once a week "all day" crop : )
Monday 031

On Monday, AJ proudly wore his two medals to school that he received at MSBOA Competition. One was for his Saxophone Minuet and the other for his piano piece, Jesu, Joy Of Man's Desiring. Competition is a lot of pressure but good preparation for the future performer. More important than the medals is the judges' feedback.


Tuesday, I picked up pictures I took at MSBOA and made sure to give my mom a set of her own. She is so proud of her grand-kids and will tell you....her grand-kids and their events is what she lives for. She is so proud of all 6 of them and loves to know what they are doing every minute.
Wednesday 002

This is our dry erase board in the kitchen. One of the kids wrote "no school"....consequently, "no scrap booking" for MiMi and I : (
Out of all the days in a week, we have to have a blizzard on our designated crop day. We had a major snow storm with thunder lightning and all. We were home bound for the day and the kids enjoyed the foot of snow. Tito spent 2 hours with AJ trying to get out of the drive way to go to work.....that is dedication.

They worked from 6am to 8am.
Thursday 003
Thursday was a day to clean the hermit crab's cage. Emily has two hermit crabs. I look at these little creatures and I think, "What a sense of humor God has."

Friday 004
I was scheduled to work Friday and Saturday midnight shift. One night was very busy and the other was decent. I am very thankful for my job, I am learning Cat Scan and plan to take the registry exam in 2012. It is so exciting to learn something new, plus I will be more marketable. I have much studying to do but I am ready.
Saturday 004
Friday February 4th is our niece Kristina's birthday. We were supposed to go to her celebration today but again we had snow and we decided not to take the long drive and just stay in. Happy Birthday Kristina....see you in two weeks.