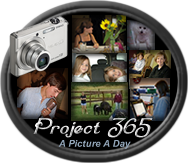 Sunday 013
I missed church to catch up on sleep. When I work so many midnights in a row I can be awfully cranky and mean. The kids, on the other hand, went to Living Faith Chapel and I went to

Bedside Assembly

....lol
Monday 014
Tito bought home a big box of chocolates for me for Valentine's Day. I am so blessed to have such a wonderful husband who is also a wonderful father to our kids. He is a great provider and the leader of our home. Right now, he is teaching AJ how to wrestle, Tito was a wrestler in high school....
I hope he can keep our son out of the ER....lol
Emily and I spent a couple hours at the oral surgeon's office on Valentine's Day. She has a permanent tooth that grew horizontal in the roof of her mouth so she will be having it cut out and placed in its proper vertical place.
There will be a bracket put in place, like a cast on a broken bone, until it heals into the socket. Dr. Morris has a cat scan machine for teeth....the technology is awesome and he had no real idea where this tooth was until he performed the scan...he actually thought it was somewhere else.
I love diagnostic imaging...
Tuesday 015

I survived my first wrestling match. That is AJ on top. I was very nervous watching all the other wrestlers before him. I was waiting for snapping necks and dislocated shoulders, but now that I have seen AJ I really think I will enjoy it. I said NO to football because NFL means "Not For Long". He actually likes wrestling better. It was also nice to see several of the Trenton High School Varsity Wrestlers there supporting the up and coming Varsity Team.
The picture quality will improve when I increase my speed and add my bigger flash. Future meets will be good photography practice for me.

Wednesday 016
More scrap booking and a church potluck which was a very nice day of fellowship.
Thursday 017
Thursday I was able to get three tickets Row 2 to Sesame Street Live with Elmo. I initially did not want to go because I was working the midnight before and after the show so I knew I would be tired. Thanks to face book, Joel's teacher posted she had three extra tickets so we talked to Grandma and decided the three of us would go.....hooray!!!
Friday 018
Elmo's World on Friday. We had great seats and it was a wonderful time with Joel and his Grandma.
Saturday 019
We went to visit Tito's family and spend time with our niece Kristina, who turned 8 last week. She played the piano for us and the girls enjoyed putting on make up and finger nails.