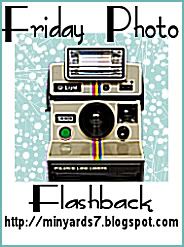 This is my favorite meme, I have so many old pictures I would love to share each Friday but my scanner is not hooked up at the moment so I am going back....
a little less far,
but I am going to participate because Emily will be the highlight of August with her birthday and her Monroe County Fair Dance Performance.
This picture is exactly 6 years and 1 day old today. Emily was 4 years old and was not only totally into Dora The Explorer but, looked like her. We got to meet Dora at a Tigers Game

.

My Emily will be 11 this August and time has sure flown. Her cousin Stacy is planning a big surprise for her birthday this next month and it is exciting. Emily is my girly girl who loves to shop and wear all the "bling"...
I am sad that her "Dora loving days"are over and she avoids the "bob haircut" like the plague.
I have these memories safely placed on CD and in her scrapbook so I am totally reliving this moment.....thank you Alicia.

For more photo flashbacks visit
Alicia.