Welcome to Treat Yourself Tuesday. I created this meme to give moms the permission to do things for ourselves from time to time. We always seem to use our money and time to take care of our family and, if you are like me, rarely indulge in pampering yourself. Last week I enjoyed a pedicure and manicure so I ended up getting my girls one....it was a treat for them but a treat for myself to see them enjoying it. I just contradicted myself.....lol but so true.
Please link up and let us know how you treated yourself this week. It does not require you to spend one dime. Maybe you sat down and read a good book, walked with a friend, watched a movie.....get the idea. The rest of us just may try what you did and make "Mama" happy because we all know, "When Mama isn't happy nobody is happy".
By the way you can link to either one, just paste the meme code and picture in your Html that you are linking to.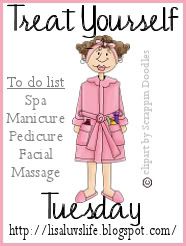 I decided to Treat my girls to pedicures and manicures because I am so proud of them. Emily has been working so hard on her two piano recital pieces not to mention preparing for a FULL weekend of dance on the 6th,7th and 8th of June.
Adrienne bought herself a pink spaghetti strap dress for her graduation night from middle school to high school. She has also taken on a leadership roll in her hockey team and I am so very proud of her. She will be a Captain for the Fall Season and she has worked very hard and a long time on perfecting her balance, edge work, puck control, speed skating and slap shots.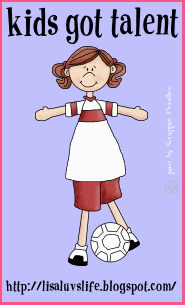 This is Emily's tap number, Baby Likes To Rock It Like A Boogie Woogie Choo Choo Train......
This is Ballet.
Emily's jazz class....Girls Just Want To Have Fun.