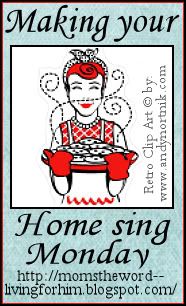 In my single and even my one child days my house was immaculate,
now with 4 children, 2 cats, one husband and a part time job I am satisfied if the house is just presentable. There are times (days) like today that I plan to do a thorough cleaning because I will be working many hours this week and all I am going to want to do is rest and sleep between shifts soooooo,,,,,,,, today I plan on making my home sing by vigorously cleaning and getting everything in place so that while I am at work everyone will have clean clothes and dishes to eat on.
If you have a plan to make your home sing, link up at Mom's The Word and let us know about it.